Scheck Lands Multi-Year Dynegy Contract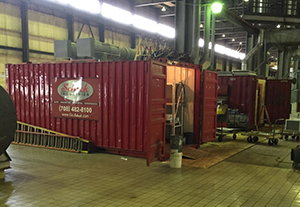 Millions of Americans across the country rely on Dynegy for their power. Dynegy operates power generating facilities in eight states in the Midwest, the Northeast and the West Coast. In Illinois, Dynegy's 10 power stations generate 8,300 megawatts of electricity – enough to power nearly seven million Illinois homes.
Summer and winter months take a toll on plants due to the upsurge in usage resulting in millions of people being out of electricity. It's during this time when Scheck's Mechanical team could be called in on a moment's notice to address stressed plant units that are down or have ongoing maintenance needs.
The core Scheck Dynegy team was assembled after Scheck landed the multi-year contract for Dynegy's 10 power facilities throughout central and southern Illinois.
"We have a core Scheck boiler team of roughly 20 to 34 full-time employees supported by hundreds of skilled union labor force workers. We surge up during downturns (when a unit comes off line for maintenance). Typically, scheduled maintenance occurs during fall and spring when power is at a minimum," said Eric Estes, Scheck Industries' manager of boiler services. "During summer, when power grids are the highest, we average an emergency every 14 days," he added.
Scheck's Emergency Response Team
Scheck provides all emergency and maintenance repair required for Dynegy's coal fire fleet. The Scheck Mechanical team could be working in a minimum of 4 to 10 plants if units are down or have ongoing maintenance, according to Estes. Each power plant contains two to five boilers, all of which are different ages and have different maintenance needs.
Typically, in a critical situation, the plant manager contacts Scheck because they see a loss of water pressure or steam, which could signify a leak in the boiler and/or a tube is corroded. If the boiler goes down or offline, Scheck gets the green light to make the repairs, which may include piping or tubing work. These critical leaks must be documented, so it is imperative that all systems are certified to code.
At any given time, Scheck's team could be dispersed to one or more Dynegy plants across Illinois. "One of the key factors in Scheck securing the Dynegy business was our emergency response plan that allows us to be in any of the plants upon short notice," said Estes. Scheck has formed a team, which includes expert field workers, who are based in proximity to the Dynegy plants.
Scheck's Value Added
In addition to managing all scheduled and emergency maintenance work, the Scheck team is using its ScheckTRAC™ costs and project controls system in all the Dynegy plants to track time spent on supervision and labor related to the maintenance of boilers throughout the history of the project. The Scheck team will then analyze the data points and develop a preventative plan during fall and spring. "By tracking the history of a project, we can determine whether or not it is more fiscally responsible to purchase new equipment than to continue to repair old equipment," said Estes.
Scheck appreciates Dynegy's confidence in its boiler team and looks forward to supporting Dynegy and its customers, for many years to come.