Scheck Unveils Refreshed Website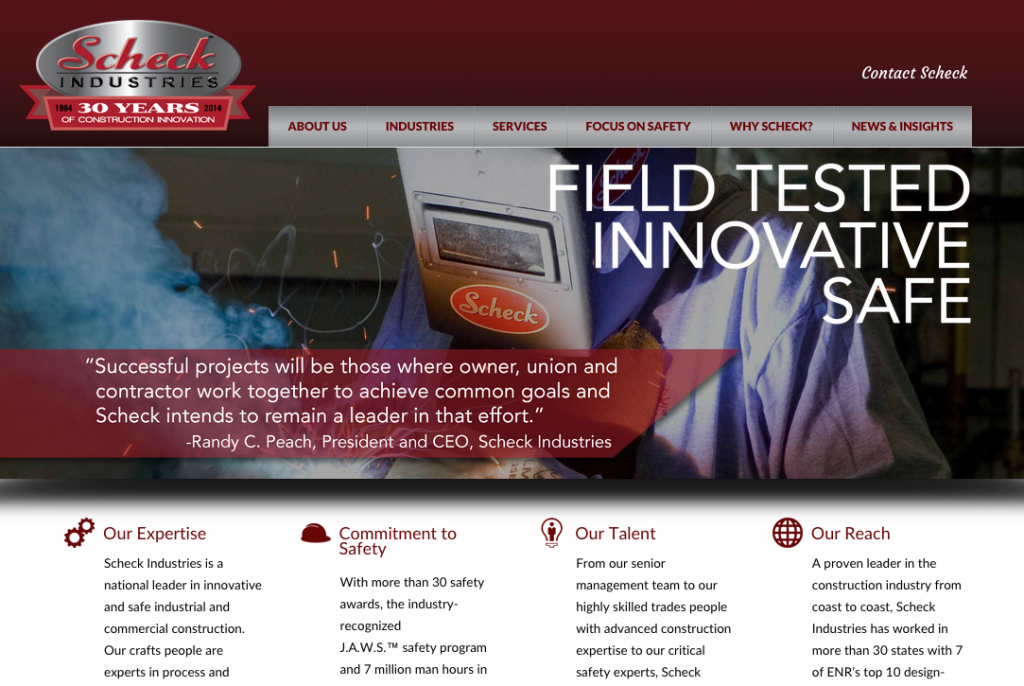 Keeping an improved, more fluid user experience in mind, we are proud to reveal the refreshed www.goscheck.com.  As Scheck continues to lead in progressive approaches to industrial construction, we felt it necessary to reflect this same progress on our outward-facing facets, including the website.
"In addition to showcasing our capabilities, a primary goal of the redesign was to better represent the face of Scheck Industries – our employees," Randy Peach, CEO, explains. "Adding profiles of our employees and spotlighting their community involvement helps our clients and partners understand the caliber of people they are working with and their strong desire to give back to the company and their communities."
Website traffic was first analyzed to better understand how visitors navigate the site and what they are most interested in. As a result, navigation is simpler and users can more quickly find the information they need. 
"The Scheck website is an extension of the relationships which define us," Website Committee Member and Project Support Administrator, Lisa Johnson explains.  "We now have a more client-focused, employee-reflective approach to our website. Clients can understand who we are, and who they will be working with on any given project.  Without a doubt, all of the committee members felt this was a vital component."
Next to its people, Scheck is proudest of the nationally-recognized safety reputation it has earned, along with the innovative, customized approach to project management. Be sure to visit the new Safety section, which provides a better showcase for the safety awards Scheck has earned. There, you can also read more about how Scheck has taken safety to state-of-the-art status with its highly effective and innovative J.A.W.S.™ program. The Why Scheck section of the site shares insight into the competitive advantages of working with Scheck and its employees.    Here you will also find information on how ScheckTRAC™ system, a best-in-class cost accounting and project controls system, is unprecedented.
Have comments or questions about the site redesign? Send them to contactus@goscheck.com.
Thank you to the Scheck Website Committee:

Kevin Hera
Director of Information/Technology Services
Kevin has been with Scheck Industries since 2008 and is responsible for all aspects of the various Scheck operating systems and infrastructure.  Kevin has also been integral in developing Scheck's industry-leading project, ScheckTRAC™
 project accounting software. Kevin served in the United States Marine Corps as an infantryman from 1996-2000.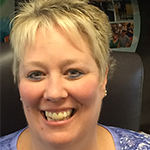 Lisa Johnson
Project Support/Administration, East Coast
Lisa has been with Scheck since 2005, handling payroll, Accounts Payable, and Accounts Receivable. She holds an Associate Degree in Accounting. The favorite part of her job is meeting new people. In her free time, Lisa enjoys traveling, NASCAR, and drag racing.
Karen P. Layng
Chief Strategic Officer
Karen is focused on strategic growth of the companies and project development opportunities.  She advises the Scheck companies and serves as the corporate Secretary to the Boards of all the operating companies. She has been recognized as a Super Lawyer, one of Illinois' top 50 women lawyers and was the first woman president of the 7th Circuit Bar Association. She lives in Riverside with her husband Patrick and they have three children.
Kevin P. McDonnell
CPA, Chief Financial Officer
Kevin is responsible for the group's financial operations, including accounting and reporting, cash management, financial planning and analysis, treasury, tax and audit. Kevin is a member of the Illinois CPA Society and American Institute of Certified Public Accountants. He and his wife Susan have three children, and reside in Burr Ridge, Illinois.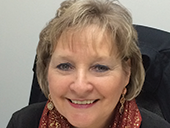 Donna Mills
Executive Assistant and Corporate Controls
Donna has been with Scheck since 2006. Her responsibilities range from accounting of payroll and union reporting to maintaining the vehicle fleet leasing program. Donna also monitors cell phone activity, is the travel administrator, and handles all office personnel-related tasks. Donna loves numbers, and anything accounting-related is the favorite part of her job. In her free time, Donna enjoys watching football, and playing volleyball, racquetball, and pickle ball.

Vinny Serna
Director of Project Controls and Cost Engineering
Vinny's responsibilities include P&L; forecasting and trending; earned value; change management and monthly WIP.
He has over 20 years of project experience both as a constructor and as an owner's representative. He first worked for Scheck Industries 10 years ago as an outside project management consultant and then, in 2008, he joined Scheck's management team full-time.