Scheck Honored at TAUC Conference with Safety Award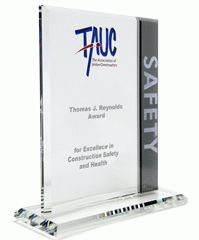 Scheck received a Thomas J. Reynold's Award for Excellence in Construction Safety during The Association of Union Constructors (TAUC) 2015 Leadership Conference.
Based on OSHA logs, the Scheck Mechanical DART (Days Away, Restricted or Transferred) rate was 0.00 – more than 25 percent below the most recent Bureau of Labor Statistics (BLS) national average of 2.2. Scheck was one of only five contractors in the country with more than one million hours worked without a DART case.
Joe Lasky Jr., Director Corporate Safety, Health and Environment, spoke during the conference as the head of TAUC's Safety and Health Committee. He also published the first of a series of safety columns in the latest issue of Construction Today Magazine which you can read here.